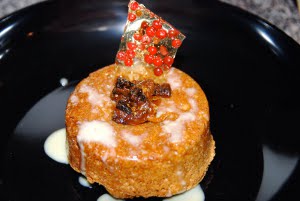 Ingredients
2 cup sifted flour all purpose flour
1 teaspoon baking powder
1/4 teaspoon baking soda
1/4 teaspoon kosher salt
1 cup toasted Macadamia nuts, coarsely ground
2/3 cup butter
2 cups packed brown sugar
2 eggs, beaten
2 tablespoon vanilla extract
1/4 c pure maple syrup
1 cup white chocolate chips (use the good stuff)
Maple Bacon Creme Anglaise
1/2 cup half and half
6 oz sugar
5 egg yolks
2 oz bacon and it's juices (pan fried and crispy)
2 Tablespoons of pure maple syrup
Method
Preheat oven to 350 F and grease baking pan of your choice. (I used a special silicon circle mold at work because I was making individual portions, and had a fancy silicon mold, you can easily make these into bar cookies.)
Sift flour, add baking powder, baking soda and salt. Sift again. Add nuts. Mix well and set aside.
Melt butter. Add brown sugar and mix well. Add egg and vanilla extract and maple syrup. Blend well. Add flour mixture, a little at a time, mixing well. Stir in white chocolate chips. Spread in a pan. Bake for 20 to 25 minutes or until a wooden pick inserted in center comes out clean or with slightly fudgy-looking crumbs.
Maple Bacon Creme Anglaise
Bring half and half, syrup, bacon and bacon fat to a boil.
Meanwhile stir together yolks and sugar.
Add a bit of boiling half and half to egg mixture and stir. Then pour the egg mixture into the boiling half and half and continue cooking until 160F. (mixture will thicken slightly and begin to foam).
Pour through strainer and trash the bacon.
Let sauce thicken slightly as it cools, and then pour on top of your warm blondie.