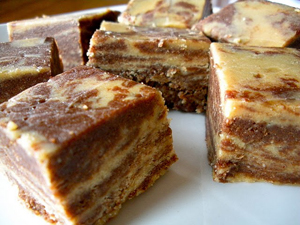 Ingredients
Chocolate Fudge
1 cup cashews
1/4 cup maple syrup
1/4 cup cocoa powder
2 tbsp coconut oil
1/2 tsp vanilla
Pinch of salt
Peanut Butter Fudge
1/2 cup cashews
1/4 maple syrup
1/2 cup peanut butter
3 tbsp coconut oil
1/2 tsp vanilla
Pinch of salt
Method
For chocolate fudge: Process the cashews in a food processor until it turns into a dense butter (it should look sort of like play-doh but still be crumbly, no lumps though!) Then add cocoa and salt. Blend until combined. Add sweetener of choice, coconut oil and vanilla. Blend until thoroughly combined, it should ball up at this point. Take out and set aside on cutting board or clean countertop.
For peanut butter fudge: Process cashews the same way as for the chocolate fudge. Add salt, blend until combined. Add peanut butter, sweetener of choice, coconut oil and vanilla. Process until thoroughly combined.
Rip doughs into 4 large chunks so you have 8. Marble fudge by combining the 8 separate pieces together, and knead until you see it marbling. Shape into a flat rectangle a good inch thick. Chill covered in fridge overnight or at least 3 hours.
Source: Recipe from Jennifer @ Sketch-FreeVeganEating