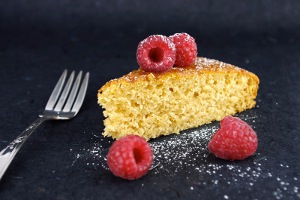 Ingredients
1 1/3 cups all-purpose flour
2/3 cup whole wheat pastry flour
1 tsp baking powder
1 tsp baking soda
1/2 tsp fine sea salt
1 cup pure maple syrup
2/3 cup water
1/3 cup olive oil or melted unsalted butter
2 tsps cider vinegar
1 Tbs vanilla
Method
Preheat the oven to 350°F (180°C). Lightly oil a 9-inch (22/23-cm) cake pan and dust with flour.
In a large mixing bowl, whisk or stir together the two flours, baking powder, baking soda and salt.
Make sure not to overcook the bananas. Dish out and set aside.
In a separate bowl or large glass measuring cup, whisk together the maple syrup, water, oil, vinegar and vanilla.
Now it is simply a question of pouring the wet ingredients into the dry and blending well either with a whisk or a wooden spoon although I prefer using a whisk. The best method for doing this so you don't end up with stuff splattered all over your countertop and so you end up with smooth, lump-free batter is to make a well in the center of the dry ingredients and pour about a quarter or a third of the liquid ingredients into the well. With small, brisk circular movements whisk with just enough of the dry until you have a thick, smooth, lump-free batter, almost a paste, in the center. Add some more of the liquid, pull in a bit more of the dry, and briskly whisk again until, aha! your batter is smooth. Continue until all the dry ingredients have been incorporated into your (now) lump-free batter, add any remaining liquid ingredients and give it a go.
Pour the batter into the prepared pan and bake for 25 – 30 minutes until the cake is set in the center and a tester inserted in the center comes out clean. If the cake is undercooked it tends to be more pasty than moist.
Allow the cake to cool for about 10 minutes in the pan before turning it out of the pan and letting it cool on a cooling rack.