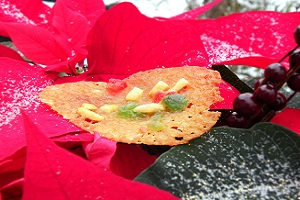 Ingredients
1/2 stick ( 4 tablespoons) unsalted butter, at room temperature
1/4 cup (packed) brown sugar
1/4 cup pure maple syrup
1/3 cup plus 1 tablespoon all-purpose flour, sifted
Method
In a small bowl, using a sturdy rubber spatula or a hand mixer, beat the butter, brown sugar and maple syrup together until light in colour and texture. Gently stir in the flour, mixing only until it is incorporated. Cover the bowl, pressing a piece of plastic wrap against the surface of the batter, and refrigerate at least 3 hours, or for up to 1 week.
Getting ready to bake: Position the racks to divide the oven into thirds and preheat the oven to 400F. Have two unlined baking sheets at hand and, if you want to curve the cookies into their traditional tile shape, a rolling pin or a slender bottle.
Roll small scoops of dough between your palms to form balls the size of small cherries or hazelnuts, and put the balls 2 inches apart on the unbuttered baking sheets.
Bake for about 7 minutes, or until the cookies spread and are golden coloured and honeycombed. Immediately remove the baking sheets from the oven, let the cookies rest a few seconds and then, using a wide metal spatula, lift them from the sheets: The best way to do this is to carefully work the spatula under a cookie edge, then push the spatula beneath the cookie with a quick jerk. If the cookie crumples a bit, as it might, don't worry - it will straighten out on the rolling pin or rack.
For curved cookies, moving with alacrity, lay the cookies, a few at a time, over the rolling pin. Transfer the cookies to a rack after they have set - under a minute - or, if you want flat cookies, just cool them on a rack. If the cookies cool and stick stubbornly to the baking sheet, slide the sheet into the oven for another minute to warm them.
If you are making another batch of cookies, make certain the baking sheets are clean and cool.