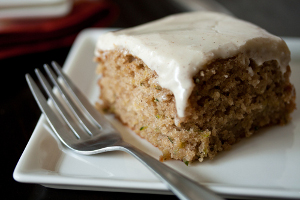 Ingredients (Yield 9 servings)
1 ¼ cups all-purpose flour
½ cup brown sugar
½ cup sugar
1 ½ teaspoons ground cinnamon
½ teaspoon ground cardamom
½ teaspoon ground nutmeg
½ teaspoon minced crystallized ginger
½ teaspoon kosher salt
1/2 teaspoon baking powder
1/2 teaspoon baking soda
½ cup vegetable oil
½ cup applesauce
2 eggs
1 cup shredded zucchini
Maple Cream Cheese Frosting
4 ounces cream cheese, softened
3 tablespoons butter, softened
3 tablespoons pure maple syrup
½ teaspoon ground cinnamon
¼ teaspoon ground cardamom
2 cups confectioners' sugar
Method
Preheat oven to 350 degrees F. Butter or spray an 8×8 inch baking pan with non-stick cooking spray; set aside.
In a bowl, combine flour, cinnamon, cardamom, nutmeg, crystallized ginger, salt, baking powder and baking soda.
Combine oil, applesauce, eggs and sugars; add to dry ingredients and mix well. Add zucchini; stir until thoroughly combined. Pour into the prepared 8×8 inch baking pan. 4. 4. Bake at 350 degrees F for 30-35 minutes or until a toothpick inserted near the center comes out clean. Cool on wire rack.
For the icing: In a small bowl, beat cream cheese, butter, maple syrup, cinnamon and cardamom until smooth and creamy. Add confectioners' sugar and mix well. Frost cake with icing.
Storage: Store covered in refrigerator for up to 2 days. Bring to room temperature before serving.
Notes:
1. This icing is a little on the thin side and is not able to be piped. If you find the consistency to be too thin for your taste, gradually add in a little more confectioners' sugar.
2. If you enjoy nuts, pecans and walnuts both pair well with this recipe. Simply fold in a ½ cup of chopped nuts before pouring the batter into the pan.
3. Don't have cardamom or crystallized ginger? No problem, just omit them, but I do highly recommend adding both of these to your spice rack.