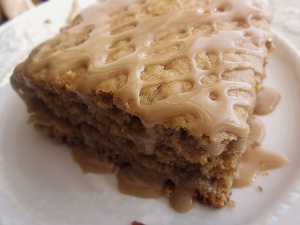 Ingredients
Dry ingredient mix:
1/2 cup dehydrated honey or brown sugar
2T dehydrated egg powder (if you use fresh egg, whisk 1egg into the wet ingredients ).
1 1/2 cups whole wheat cake flour
1 tsp baking soda
1/2 tsp salt
1T Chef Tess Wise Woman of the East Spice Blend (OR 1 tsp cinnamon, 1 tsp ground ginger, 1/4 tsp ground clove, 1/4 tsp ground nutmeg)
To bake combine:
1/2 cup vegetable oil
1/2 cup pure maple syrup
1 cup Chef Tess Homemade Sourdough Starter
Maple glaze:
2 cups organic powdered sugar
1/3 cup maple syrup
1T melted butter
1tsp Wise Woman of the East Spice Blend
Method
Preheat oven to 375 degrees. Grease and flour a nine inch by nine inch cake pan.
Combine the dry ingredient mix. Combine the wet ingredient mixture.
Mix the wet and the dry ingredients together, beating about 100 strokes by hand.
Pour into prepared pan and bake 30-35 minutes or until a toothpick inserted into the cake comes out clean.
While cake is warm, top with the maple glaze: Heat maple syrup and butter together until just boiling. Stir in powdered sugar and spice blend.
Remove from heat and use immediately on the cake.