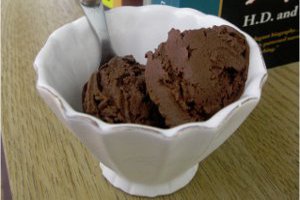 Ingredients (4 servings.)
2 1/4 C water
1/2 C maple syrup
3/4 C unsweetened cocoa powder
1/2 tsp salt
7 ounces semi-sweet chocolate chips
1/2 tsp vanilla extract


Method
In a saucepan, combine 1 1/2 C water, maple syrup, cocoa, and salt, and bring this mixture to a boil.
Once it boils, remove from heat and stir in the chocolate chips, vanilla, and the remainder of the water.
Blend this mixture in a blender.
Freeze the mixture overnight. If you prefer pudding, freeze for only a few hours.
One warning, though: this recipe is for lovers of dark chocolate. It's definitely decadent, so if you're into lighter desserts, you might want to experiment with the amount of semi-sweet chocolate you use. Alternatively, you could just serve it up with some fresh berries.