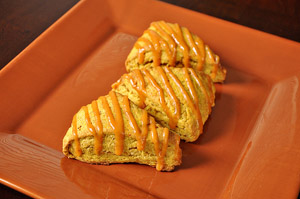 Ingredients (Yield 8 scones)
1 cup all-purpose flour
1 cup cake flour
1 1/2 teaspoons baking powder
1/2 teaspoon salt
1/2 teaspoon ground cinnamon
1/2 teaspoon ground nutmeg
1/4 teaspoon ground allspice
1/4 teaspoon ground ginger
6 tablespoons very cold unsalted butter, cut into 1/2 inch pieces
1/3 cup pumpkin purée
1/3 cup heavy cream
6 tablespoons (1/4 cup plus 2 tablespoons) brown sugar
1 teaspoon vanilla
For the glaze:
2 tablespoons maple syrup
2 teaspoons pumpkin
1/2 cup powdered sugar
Method
Preheat oven to 425º. Line a baking sheet with parchment paper or a Silpat.
In a medium bowl, whisk together flours, baking powder, salt and spices.
In another medium bowl, whisk together pumpkin, cream, sugar and vanilla.
Using the tips of your fingers or a pastry blender, cut butter the into the flour until the mixture resembles coarse crumbs.
Add the pumpkin mixture to the flour mixture and stir until just moistened. The dough will be crumbly.
Turn the dough out onto the counter and push the pile together with your hands. Continue pressing and kneading the dough until everything comes together, taking care not to overwork it.
Form the dough into a rough circle 3/4 to 1 inch thick. Cut the dough into 8 wedges and placed on prepared baking sheet about 2 inches apart.
Bake for 12-15 minutes until lightly browned on the bottom. Cool on baking sheet for 5 minutes before transferring to a wire rack to cool completely.
While scones are cooling, make the glaze by whisking the syrup, pumpkin and powdered sugar together in a small bowl. Add more syrup or powdered sugar until desired consistency is reached. Pipe or drizzle over the cooled scones.