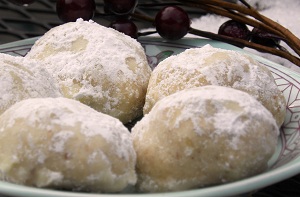 Ingredients
1 cup unsalted butter, softened
1/2 cup confectioners sugar, plus more for decoration
1 1/2 cups medium to fine ground walnuts
3 tablespoons amber (or darker) maple syrup
1 teaspoon vanilla extract
1/4 teaspoon salt
2 1/4 cups flour
Method
In a large bowl, cream the butter until fluffy.
Sift the confectioners sugar over the butter. Cream for 1 minute.
Add nuts, maple syrup and vanilla and stir until blended.
Add the salt and flour 1 cup at a time until thoroughly mixed. You might need to use a spatula or your hands to make sure there are no pockets of flour or butter.
Scrape the dough together and wrap in plastic. Chill for 2 hours.
Preheat the oven to 325F.
Line your baking trays with a silpat or parchment paper.
Roll teaspoons of chilled dough into 1 inch balls. Place 1 1/2 inches apart on the baking sheets. Put the trays into the oven for 5 minutes to rechill the dough.
Bake the cookies, one sheet at a time, for 18 - 20 minutes, until the tops are just firm and the bottoms golden brown.
Set the trays on a wire rack and cool for 3 minutes.
Fill a small bowl with icing sugar. Roll the warm cookies in the sugar, coating them well and transfer them to a wire rack to cool. Once cool either reroll them or liberally sift icing sugar over the cookies.
Can be kept in an airtight container for 3 days at room temperature, but they won't last that long!