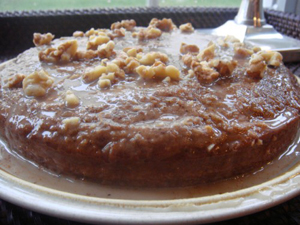 Ingredients
1 cup chopped pitted dates
1/2 cup boiling water
1 cup whole-wheat pastry flour
3/4 cup all-purpose flour
1 cup chopped toasted walnuts
3/4 teaspoon baking soda
1/4 teaspoon salt
1 large egg
3/4 cup maple syrup
1/4 cup canola oil
4 tablespoons unsalted butter, melted
2 teaspoons cider vinegar
1 tablespoon vanilla extract
For the glaze
2 tablespoons pure maple syrup
1 teaspoon cider vinegar
3/4 cup gently packed confectioners' sugar
1-2 teaspoons water, if needed (you be the judge based on how thick/thin you want the glaze)
Method
First, preheat oven to 325°F. Then prepare your 10-inch springform pan by coating with cooking spray.
Now place dates in a small bowl. Pour boiling water over them to soak. Let cool to room temperature. Set aside.
Put whole-wheat flour, all-purpose flour, 2/3 cup walnuts, baking soda and salt in a food processor (or blender) until the walnuts are completely ground. Transfer to a medium bowl, making a well in the center.
Now puree the dates and soaking water in the food processor or blender until smooth, scraping down the sides as necessary. Add egg, 3/4 cup syrup, oil, butter, 2 teaspoons vinegar and vanilla and blend/process until smooth. With a spatula, scrape the date mixture into the well in the dry ingredients and stir together until just combined. Pour into the prepared pan.
Bake the cake until a toothpick comes out clean, 30 to 35 minutes. Let cool completely before removing from the pan. Then run a knife around the edges to loosen the cake and remove the sides of the pan.
Now you are ready to glaze – BEST PART! Carefully lift the cake from the pan bottom and place on a cake stand or serving plate and set aside. Meanwhile, whisk maple syrup, vinegar and confectioners' sugar in a small bowl. Add water, 1 teaspoon at a time, if necessary to make a spreadable consistency. (Licking fingers is encouraged). Spread the glaze evenly over the top of the cake, then decorate with remaining 1/3 cup walnuts.