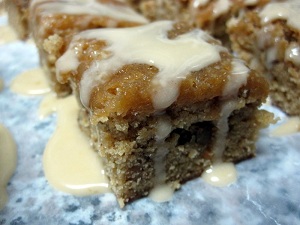 Ingredients
1 1/4 cups (5 1/4 ounces) unbleached all-purpose flour
3/4 teaspoon salt
1/2 teaspoon baking powder
6 tablespoons (3/4 stick) unsalted butter
3/4 cup (5 5/8 ounces) brown sugar
1/3 cup (3 1/4 ounces) maple syrup
2 large eggs
1/2 teaspoon maple flavor (you can use maple extract or imitation maple flavor, too)
3/4 cup (3 ounces) chopped toasted walnuts
Maple glaze:
1 cup (4 ounces) confectioners' sugar
2 tablespoons maple syrup
1/2 to 2 tablespoons milk or cream
Method
Preheat the oven to 350°F. Prepare an 8-inch square baking pan by lightly greasing the bottom and sides. If you want, line with foil and then grease. I did this so I could easily lift the bars out of the pan and cut on a cutting board (plus, it kept my pan nice and clean!).
In a medium bowl, whisk together the flour, salt, and baking powder; set aside.
In a medium saucepan set over the stove or a medium microwave-safe mixing bowl, melt the butter and brown sugar together. As soon as the butter is melted, remove from the heat and stir to wet the brown sugar and make a smooth mixture. Stir in the maple syrup. Let the mixture stand about 20 minutes or until it cools to lukewarm.
Add the eggs, one at a time, and stir to combine well. Then stir in the maple flavor. Gently fold in the dry ingredients but don't overmix. Fold in the walnuts.
Pour the batter into the prepared pan and bake for 20 to 25 minutes (it took me 21 minutes), just until the edges pull away from the sides of the pan. Don't overbake or the brownies will be dry. Err on the side of underbaking. :) Take the pan out of the oven and let cool on a cooling rack.
Once completely cool, cut into squares and drizzle the glaze on top. I placed the individual squares on a sheet of wax paper and then drizzled the glaze so the glaze didn't make a huge mess everywhere. Transfer the glazed squares to a container and place in the fridge for 20 minutes so the glaze can set.
Maple Glaze
Place the confectioners' sugar in a small bowl or 4-cup measuring glass.
Add the maple syrup and barely any milk or cream. Whisk together and determine if you should add more milk or cream.
My glaze was liquidy enough for drizzling with only 1 tablespoon milk. You want the glaze to be able to pour easily but you don't want it so thin that it slides right off the brownie and into a puddle on the wax paper.