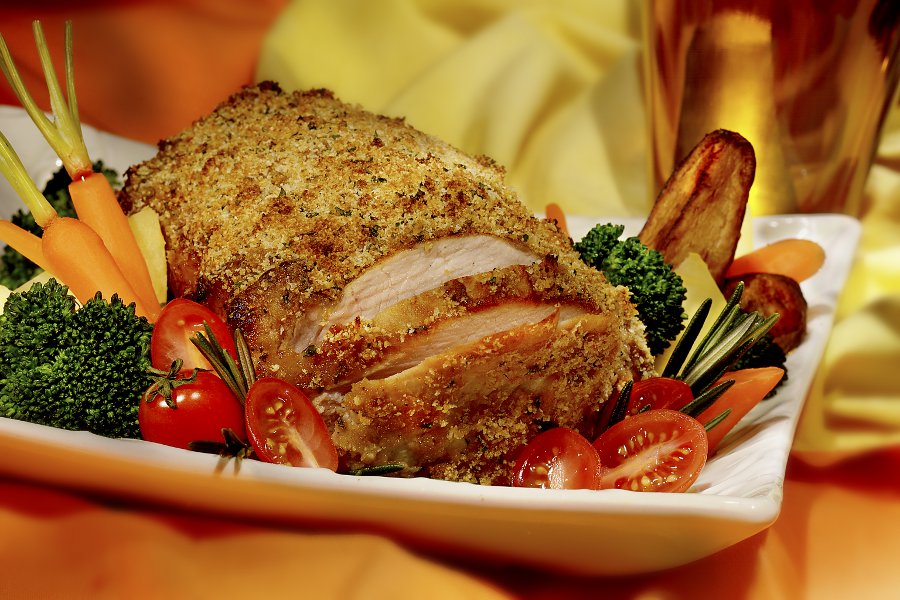 Ingredients (4 portions)
Pork
125 ml of maple syrup (1/2 cup)

80 ml of Dijon mustard (1/3 cup)

15 ml of fresh rosemary, chopped (1 tablespoon)

1 garlic clove, chopped

600 g of pork loin (1 1/3 lb)

600 ml of bread crumbs (1/4 cup)
Maple Sauce
1 shallot, chopped

10 ml of butter (2 teaspoons)

60 ml of white wine (1/4 cup)

250 ml of prepared demi-glaze sauce (1 cup)

30 ml of Dijon mustard (2 tablespoons)

15 to 30 ml of maple syrup (1 to 2 tablespoons)

5 ml of rosemary, chopped (1 teaspoon)

Salt and freshly ground pepper, to taste
Method
In a small bowl, mix the maple syrup with the mustard, the rosemary, the garlic and season generously.

Cover the pork loin with the mixture and sprinkle with bread crumbs.

Sear in oven at 450 °F (225 °C) for 10 minutes. Lower the heat to 350 °F (175 °C) to finish cooking (about 20 min./lb – 40 min./kg).

While the meat is cooking, cook the shallot and garlic in butter to prepare the sauce.

Deglaze with white wine and reduce to one half.

Adjust the seasoning.

Serve the roast sliced and topped with sauce. Accompany with your favorite season vegetables.
Source : Fédération des producteurs acéricoles du Québec