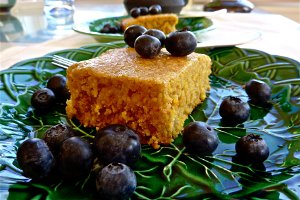 Ingredients (Serves 9-12)
Corn Polenta Cake
1 cup whole wheat pastry flour
1 cup polenta
1/2 teaspoon baking powder
1/2 teaspoon baking soda
1/4 teaspoon sea salt
2 cups corn kernels (three large cobs)
3/4 cup plain rice or soy milk acidulated with 1 teaspoon rice vinegar
1/2 cup plus 2 tablespoons maple syrup
1/4 cup canola oil, or similar oil
Maple Cinnamon Glaze
Method
Corn Polenta Cake
Measure out the rice or soy milk and add the rice vinegar, allow to sit for five minutes.
Combine the first five ingredients in a large mixing bowl, stirring well.
Measure the final four ingredients into a blender bowl and blend just enough to mix everything well, but not so much as to completely purée the corn (you want some texture).
Add the wet ingredients to the dry and stir well.
Pour the batter into a lightly oiled 9 X 9-inch cake pan and bake in a 350º F oven 30 minutes or until it tests done when a toothpick is inserted.
Maple Cinnamon Glaze
Combine the maple syrup and the ground cinnamon.
Warm.
Apply evenly on the top of the cake with a pastry brush.