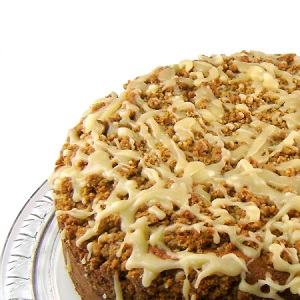 Ingredients
Streusel
1-1/2 cups all-purpose flour
1 cup toasted walnuts
2 /3 cup firmly packed light brown sugar
3/4 stick (6 tablespoons) unsalted butter, softened
1-1/2 teaspoons cinnamon
1/4 teaspoon salt
1 /4 cup pure maple syrup
1/4 teaspoon maple extract
Cake
2 cups all-purpose flour
1-1/4 teaspoons double-acting baking powder
3/4 teaspoon baking soda
1 teaspoon salt
1 stick (1/2 cup) unsalted butter, softened
2/3 cup firmly packed light brown sugar
1/4 cup pure maple syrup
1-1/2 teaspoons maple extract
1/2 teaspoon vanilla extract
2 large eggs
3/4 cup sour cream
Glaze
1 tablespoon unsalted butter
2 tablespoons Grade B maple syrup
1/2 cup confectioners' sugar
Method
To make the streusel: In a food processor blend flour, walnuts, brown sugar, butter, cinnamon, and salt until nuts are ground and mixture is crumbly. Stir maple extract into syrup, then add syrup to mixture in processor bowl and pulse until combined. Set aside.
To make cake: Preheat the oven to 350 degrees F. Butter a 9-inch springform pan. Line bottom with parchment paper. Butter paper. Dust pan with flour, tapping out excess. Whisk flour, baking powder, baking soda and salt together in a large bowl. Place butter and brown sugar in bowl of an electric stand mixer. Cream until mixture is light and fluffy. Beat in maple syrup, maple extract and vanilla. Add eggs, one at a time, beating well after each addition. Add flour mixture to butter mixture alternately with sour cream, beginning and ending with sour cream. Beat batter after each addition just until combined. Spoon 1/2 of batter into prepared pan. Top with half of streusel mixture. Cover with remaining batter and spread with reserved streusel. Bake in middle of oven for 50 to 60 minutes, or until tester comes out clean. Cool in pan for 5 minutes. Remove sides of spring form. Carefully invert cake on a cooling rack and remove bottom of pan and parchment paper. Turn cake right-side up onto another rack and cool completely.
To prepare glaze: In a small saucepan, melt butter and syrup together over medium heat. Whisk confectioners' sugar into hot mixture until smooth, and immediately drizzle over cooled cake. Yield: 8 to 10 servings.