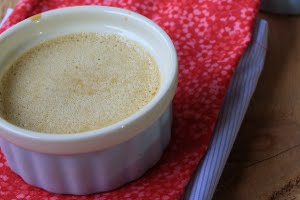 Ingredients (4 servings)
1/2 cup maple syrup
1 1/2 cups heavy whipping cream
1/2 teaspoon salt
4 egg yolks
1/2 teaspoon vanilla


Method
Preheat the oven to 300 degrees.
In a saucepan, bring the maple syrup, cream and salt to a simmer over medium heat.
Beat the egg yolks in a large bowl. Slowly add the cream mixture to the eggs, and whisk constantly. Strain the custard through a fine mesh sieve.
Pour the custard in the ramekins. Fill the baking pan with hot water until it comes halfway up the ramekins.
Bake for about 50 minutes. Cool the ramekins at room temperature. Refrigerate.