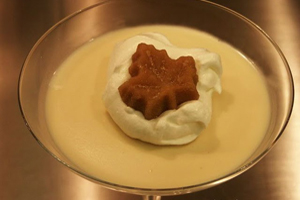 Ingredients (Serves 6)
2 teaspoons unflavored gelatin (this will be less than 1 envelope)
2 tablespoons warm water
1 cup heavy whipping cream, NOT whipped
1 cup mascarpone cheese, room temperature
1 cup real maple syrup
1 tablespoon dark rum (optional)
whipped cream and some maple sugar candies for garnish.


Method
Sprinkle the gelatin over the water in a large heatproof bowl. Let sit for 10 minutes.Whisk in the cream, mascarpone and maple syrup, and set the bowl over a pan of simmering water. Whisk the mixture until smooth and warmed through, so the gelatin is incorporated.
Divide the mixture evenly among 6 martini glasses. Cover each one with plastic wrap. Be sure that the wrap does not touch the tops of the panna cotta. Refrigerate overnight, or for a minimum of 12 hours, before serving.
Top with a spoonful of whipped cream and a maple candy.