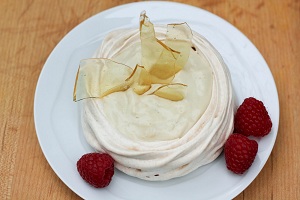 Maple Mousse
Ingredients
1

cup

pure maple syrup

4

egg yolks

1

tablespoon

unflavored gelatin

1 1/2

cup

heavy whipping cream
Method
Bring maple syrup to a boil (I used a pyrex measuring cup to do this in the microwave).
In a large bowl, whisk yolks and temper with a small amount of maple syrup, while continuing to whisk. Add the rest of the maple syrup to the warmed yolks and whisk to combine.
Measure 1/4 cup of the whipping cream and place in a small bowl. Sprinkle with gelatin and allow to sit for 5 minutes. Heat gelatin mixture gently in microwave to help dissolve the gelatin (alternatively, you can set the bowl in simmering water to heat).
Whisk this gelatin mixture into the maple syrup mixture. Set aside. Whisk every 15 minutes or so over the next hour till the mixture has the consistency of unbeaten egg whites.
Whip remaining cream. Stir about a quarter of the whipped cream into the maple syrup mixture. Then fold in the remaining whipped cream. Refrigerate for at least an hour before filling your shells.