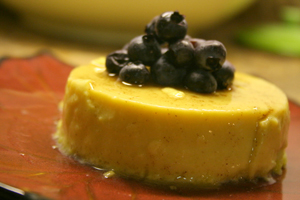 Ingredients
1 cup pure maple syrup
5 farm fresh egg yolks
1 tsp pure vanilla extract
1 tsp ground cinnamon
2 cups fresh organic whipping cream


Method
Preheat oven to 275 F. Lightly butter 6 ramekins and set aside. Simmer ½ cup maple syrup in a small saucepan over medium heat for about 10 minutes, until syrup has reduced to a thick consistency. Be careful not to overcook. Immediately divide the syrup between the ramekins and swirl each ramekin to coat with the syrup. Set aside.
Make the custard. In a medium bowl whisk the second ½ cup of maple with egg yolks, vanilla and cinnamon. Heat the cream in a saucepan until just boiling, gradually whisk the hot cream into the egg yolk mixture, then divide the mixture evenly into the ramekins.
Set the ramekins into a baking pan, and fill the pan with water halfway up the sides of the ramekins to create a bain marie. Cover baking pan with foil, carefully place in the oven and cook for 50 minutes. During the last 10 minutes check the custards to make sure the center is set and a little wiggly, but not totally cooked.
Remove custards from the water, and chill uncovered in the fridge until cold, at least 4 hours. Custard can be made a day ahead. To serve run a knife around the edges of the ramekins to loosen custards and invert to serve on dessert plates.