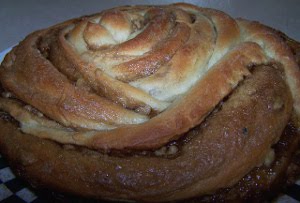 Ingredients (Yield: 2 cakes; 16 servings)
1/2 cup milk
1 envelope active dry yeast or 1 cake compressed yeast
1/4 cup warm water
1/2 cup (1 stick) butter, divided
3 tablespoons plus 1/3 cup granulated sugar, divided
11/2 teaspoons salt
2 eggs
3 1/4 to 3 1/2 cups plus 2 tablespoons all-purpose flour, divided
1/2 cup packed brown sugar
1/4 cup maple syrup
1/2 teaspoon ground cinnamon
1/2 teaspoon maple flavoring
1/2 cup walnuts chopped
Powdered sugar or maple glaze, see note


Method
Heat milk in a small pot just until bubbles begin to form around the edges. Remove from heat, but keep warm. Soften yeast in warm water.
In a large bowl, combine 1/4 cup ( 1/2 stick) butter, 3 tablespoons granulated sugar, salt and hot milk. Stir in unbeaten eggs and softened yeast. Gradually add 3 1/4 to 3 1/2 cups flour, just enough to form a stiff dough, beating well after each addition. Cover with plastic wrap; let rise in a warm place for 1 to 1 1/2 hours.
Meanwhile, let the remaining 1/4 cup butter come to room temperature. After dough is done rising, beat softened butter until light. Add brown sugar, remaining 1/3 cup granulated sugar, maple syrup, remaining 2 tablespoons flour, cinnamon, maple flavoring and walnuts. Beat until fluffy.
Toss dough on a well-floured surface to coat with flour. Divide dough in half. Roll out one portion to a 14-by-8-inch rectangle. Spread with half of the nut filling. Roll up, starting with a 14-inch side. Cut roll in half lengthwise. Twist strips together, cut sides up. Shape into a ring in a well-greased 8- or 9-inch round pan. Repeat with the remaining dough and filling.
Cover pans. Let rise in a warm place until light, about 45 minutes. Meanwhile, preheat the oven to 350 degrees. Bake cakes 25 to 30 minutes, until done. If desired, spoon glaze over cooled cakes.
Note: To make a glaze, stir together sifted powdered sugar with milk or water to reach desired consistency. Flavor to taste with vanilla or maple flavoring.
Per serving: 250 calories; 9g fat; 4g saturated fat; 40mg cholesterol; 5g protein; 38g carbohydrate; 17g sugar; 1g fiber; 230mg sodium; 30mg calcium.