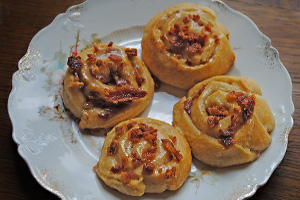 Ingredients
12 oz. bacon, cooked till crisp and crumbled
2 cans refrigerated crescent roll dough
4 tablespoons butter, softened
5 tablespoons maple syrup
1/3 cup powdered sugar
Method
Heat oven to 425 and bake bacon until desired crispness is achieved. Drain on paper towels and crumble. Set aside.
Generously spray large cookie sheet (dark cookie sheet not recommended) with non stick cooking spray, or line with cooking parchment paper (this is what I used.)
Unroll crescent dough onto work surface, one can at a time, and press into 12×8-inch rectangle, making sure to join all seams.
In small bowl, mix 2 tablespoons of the butter and 2 tablespoons of the syrup with fork or wire whisk until smooth and creamy. Spread mixture evenly over dough, covering to edges.
Reserving 2 tablespoons of crumbled bacon for garnish, sprinkle half the crumbled bacon over the butter/syrup mixture on the first rectangle of dough.
Starting at long end, roll up dough; pinch edge to seal. Wrap roll in plastic wrap; refrigerate 5 minutes to chill so dough will be easier to cut. (I started at the long end to make these a bit smaller.)
Unwrap roll; place seam side down on cutting board. Using serrated knife, cut roll into 12-16 (about 3/4-inch) slices. Place slices, cut sides up, on cookie sheet.
Repeat with second can of crescent dough.
Bake 8 to 13 minutes or until light golden brown. Place waxed paper under cooling rack. Remove rolls from cookie sheet to cooling rack; cool 5 minutes.
Meanwhile, in small bowl, mix powdered sugar, remaining 2 tablespoons butter and remaining 3 tablespoons maple syrup with wire whisk until smooth. Drizzle icing over rolls. Garnish with reserved bacon.