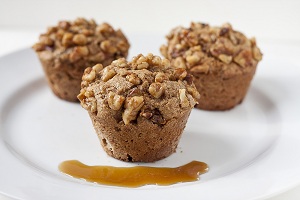 Ingredients
1 Tbsp butter
1/2 cup walnut pieces
2 Tbsp + 1/2 cup maple syrup
1 1/2 cups whole wheat pastry flour
1/2 tsp. baking powder
1/2 tsp. baking soda + a pinch more
1/2 tsp. cinnamon
1/2 tsp. nutmeg
1/4 tsp. cloves
1/4 tsp. salt
2 eggs
1/4 cup oil
1 tsp. vanilla extract
1 1/2 cups apple, finely chopped
Method
Heat a skillet over medium heat. Add butter and melt.
Stir in walnuts and 2 tablespoons maple syrup. Cook, stirring frequently, until syrup is caramelized and nuts are toasted, about 2 minutes. Be careful not to burn the walnuts.
Preheat oven to 325°F.
In a large bowl, combine flour, baking powder, baking soda and spices.
In a separate bowl, lightly beat eggs. Stir in oil, 1/2 cup maple syrup and vanilla.
Stir in half the flour mixture into the egg mixture.
When combined, stir in the remaining flour until blended. Stir in apples.
Divide mixture among greased or paper lined muffin cups and bake for 22 minutes, or until tester comes out clean.