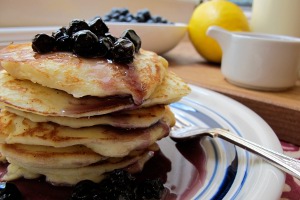 Ingredients
2 cups ricotta, drained of any excess liquid
4 large eggs, separated
zest of 1 lemon
3 Tbs sugar
1/4 tsp salt
1 tsp vanilla extract
1 cup all-purpose flour, sifted
3 1/2 ounces butter, melted and cooled to room temp
Extra butter for the griddle
Maple Syrup to taste
Blueberries


Method
In a large bowl whisk together the egg yolks and ricotta. Make sure that any lumps in the ricotta are whisked smooth. Whisk in lemon zest, sugar, salt, and vanilla extract. Continue using the whisk and add flour. Use the whisk as if you are using a spatula and fold in the flour, then gently whisk in the melted butter. Take care not to work the flour too much as it will make the pancakes tough. Set aside.
In a separate bowl whip the whites. For this size recipe I whisk them by hand...its a great workout for the arms. If you are doubling the recipe its probably better to use beaters. Whip them to soft peaks. Take half the whites and fold them in ricotta mixture. Once combined, fold in the remaining whites. Be gentle as to not kill the air in the batter.
Heat griddle to medium high. Add generous amounts of butter to melt on the griddle. Scoop pancake batter onto the griddle. This pancake batter does not spread much once it hits the heat. I keep the domed batter on till it creates a golden brown crust and can be flipped. Then I press into a more thin pancake shape. Once that side is golden brown, I flip again and brown any parts on the first side that weren't browned initially.
Serve with blueberry maple syrup. This is easily made by adding fresh blueberries and maple syrup to a small sauce pan. Once it comes to a simmer take off the heat and serve with pancakes.