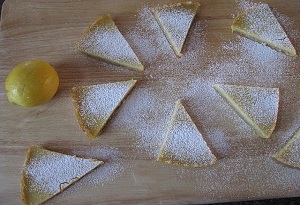 Ingredients
1 cup plus 5 tablespoons flour
1/2 cup maple syrup
1/4 teaspoon sea salt
1/4 cup unsalted butter
1 whole egg
1 egg white
juice and zest of one large lemon
1/4 teaspoon baking powder
1 tablespoon powdered sugar to top before serving
Method
Preheat oven to 350 degrees.
Mix 1 cup of flour, 1/4 cup of maple syrup, salt and butter in large bowl.
Cut together with a fork until dough is a crumbly consistency.
Press dough into a greased 9 inch pie plate with your fingers.
Bake for 12 minutes.
While letting crust cool (approx. 10 minutes), whisk together egg, egg white, maple syrup, juice and zest of lemon, baking powder and flour.
Pour over cooled crust and bake for 25 minutes. (Edges will be browned)
Let cool, slice and dust with powdered sugar.