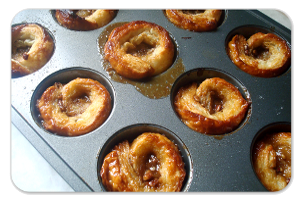 Ingredients (Yields 12 sticky buns.)
For the sticky part
For the buns
1 sheet puff pastry, thawed
1 Tbsp butter, melted
1 Tbsp pure maple syrup
1/3 cup brown sugar
2 tsp cinnamon
1/2 cup chopped pecans
Method
Set oven to 400 degrees.
On a lightly floured surface, unfold the puff pastry, with folds going left to right.
In a small bowl, combine butter and maple syrup. With a pastry brush, brush mixture onto puff pastry, leave a small 1/2 inch border all the way around.
Evenly sprinkle on brown sugar, cinnamon and pecans.
From the bottom up, gently roll up the puff pastry.
Slice into 12 small rolls.
Place one roll into each muffin cup, on top of the butter mixture.
Bake sticky buns for 30 minutes, until browned.
Allow to cool for a few minutes and then invent sticky buns onto the parchment paper.
Allow to cool for an additional 10 minutes.
Eat carefully, they are fiercely hot.