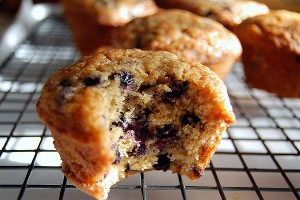 Ingredients ( makes 10 muffins )
1 cup all purpose flour
1/2 cup white whole wheat flour
2 tsp baking powder
1/2 cup brown sugar
1 cup blueberries (if frozen, rinsed and set aside to dry a bit)
1/2 cup butter
1/2 cup maple syrup
2 eggs
1/2 tsp salt
1/4 cup maple syrup, for brushing over tops
Method
Heat oven to 375, and lightly grease your muffin pan.
Melt the butter in a small pan, letting it go until it starts to brown and smell nutty. Don't let it burn, but stop
when it gets deep brown. There will be dark sediment in the pan, so pour the butter through a wire mesh strainer
and set it aside to cool a bit. Don't worry if a bit of the sediment makes it through the strainer.
In a medium bowl, whisk together the flours, baking powder and sugar.
In a smaller bowl, toss the berries with 1/4 cup of the flour mixture.
In a large measuring cup or smaller bowl, whisk the melted butter, maple syrup eggs and salt.
Pour the wet stuff into the dry stuff, mix just until blended--then fold in berries.
Fill the muffin cups evenly (I got 10 muffins) and bake for 18-20 minutes.
Do the toothpick test--it should come out clean.
Let the muffins cool a few minutes in the pan, then run a knife around the edges, and turn them out on to a
cooling rack.
Place the cooling rack over a parchment lined pan, and brush the tops with the maple syrup.