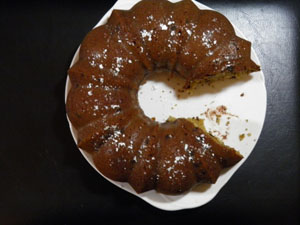 Ingredients
6 ounces semi-sweet chocolate chips
2 3/4 cups all purpose flour (plus an additional amount for dusting pan)
2 tsp baking soda
1 tsp baking powder
3/4 tsp salt
3/4 cup (1 1/2 sticks) unsalted butter, at room temp
1 1.4 cups firmly packed brown sugar
2 tsp vanilla extract
1 tablespoon maple syrup
4 large eggs
1 cup buttermilk
Method
Preheat oven to 325F. Grease a 12-cup Bundt pan then dust pan lightly with flour.
Place your chocolate chips in medium bowl. From your 3 cups all purpose flour, measure about 2 tablespoons flour and toss those 2 tablespoons in with your chocolate. (Tossing your chocolate with a tiny bit of flour helps keep them evenly suspended in the batter.)
Sift remaining flour with baking soda, baking powder, and salt. Set aside.
In the bowl of a stand mixer, cream butter and brown sugar until fluffy, about 2-3 minutes. Mix in vanilla extract and maple syrup. Add eggs, one at a time, mixing well after each addition, scraping down the sides of the bowl as needed.
On low speed, mix in the flour mixture in 3 additions alternately with buttermilk in 2 additions, beginning and ending with flour mixture. Detach the bowl from the stand mixer and, using a spoon or spatula, fold in the chopped chocolate. Spread your batter evenly in your prepared pan.
Bake at 325F until cake tester comes out clean and the cake begins to pull away from sides of pan, about 60 minutes. Cool cake in pan over a cooling rack for about 30 minutes. Then invert cake onto cooling rack and let it cool.