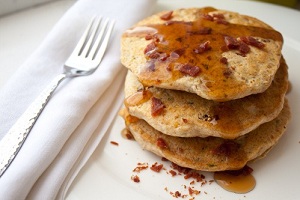 Ingredients
1/2 cup yellow cornmeal cornmeal
1/2 cup all-purpose flour
1 tablespoon baking powder
1/2 teaspoon salt
1 tablespoon sugar
1 large egg
1 cup milk
2 tablespoons sour cream
2 tablespoons jalapeno pepper, seeded and minced
2 slices bacon, pan fried and chopped
3 tablespoons grated parmesan cheese
Method
Pan fry the bacon until crisp. Drain on a paper towel lined plate, and when cool enough to handle, crumble them into small pieces. Clean out your skillet.
In a medium bowl, whisk the cornmeal, flour, salt, and sugar. Set aside. In a large bowl whisk the egg with the milk. Stir the dry ingredients into the wet ingredients until just combined. Stir in the sour cream, followed by the jalapeno, bacon, and parmesan cheese.
Ladle ¼ cup of batter onto a nonstick pan coated with oil. Cook the pancakes for about 4 minutes per side. Flip when bubbles begin to form and pop on the top and sides of each.
Serve with warm, 100% pure maple syrup and additional strips of bacon.
Nutrition info for 1 serving (1/3 of entire recipe): Calories: 291, Fat: 9g, Carb: 40.5g, Fiber: 2g, Sugars: 8.6g, Protein: 11.7g