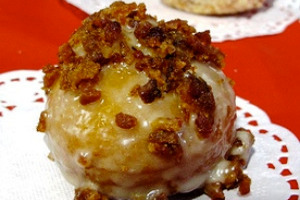 Ingredients (Makes 16 holes.)
Candied Bacon
1 lb bacon
1 cup light brown sugar
Maple Glaze
Doughnut Holes
Canola or Peanut Oil for frying
2 cans refrigerated biscuits (buttermilk preferred over flaky kind)
¼ cup flour
Doughnut hole cutter
Method
Bacon Prep:
Pre-heat oven to 450 degrees. Lay bacon strips flat and coat each side liberally with brown sugar. Place on broiler pan. Bake at 450 degrees for 10-15 minutes. Watch bacon carefully as sugar and fat will drip and combine and can smoke.
Remove from oven. Allow bacon to cool on a cutting board for at least 2 hours until crispy and dry.
Chop into very small pieces.
Maple Glaze Prep:
Combine all ingredients in a small sauce pan. Whisk together until blended and heat on medium heat. Stir frequently. When combined and bubbly, reduce heat and simmer on low. Remove from heat before drizzling on doughnuts.
Doughnut Prep:
Heat oil in large pot on high heat. Remove biscuits from roll and place on flat, floured surface. Assure both sides of biscuit are floured. Using a floured doughnut hole cutter, cut small circles out of the dough. Flour your hands and roll circles into ball shapes.
To fry: add 2-3 doughnut holes to pot at a time. Brown on each side for 1-2 minutes and flip over. Remove from pan and place into bowl. Continue until all doughnuts are fried.
Place fried dough balls on a cooling rack above a cookie sheet (as syrup will drip). Drizzle all sides lightly with maple glaze. Allow glaze to set for 20 minutes. Roll each doughnut in bacon crumbles. Place back on cooling rack and drizzle again with maple glaze. Serve immediately or store in airtight container.
Note: Bacon will stick to better doughnuts if it's very dry and crumbled. Larger circles left over from biscuits can be fried and glazed and bacon covered as well!