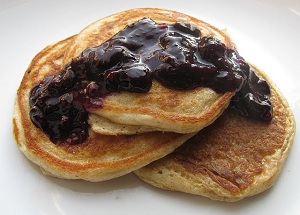 Ingredients
1/2 cup of all purpose flour
1/4 cup of whole wheat flour
1/4 cup of almond flour or almond meal
2 tsp of baking powder
1/2 tsp of baking soda
1/2 tsp of salt
2 tbsp of butter, melted
1 tbsp of maple syrup
1 egg
3/4 cup of Greek yogurt, nonfat
Any optional mix-ins you want (almonds, chocolate chips, bananas,etc)
Blueberry Sauce
2 cups of blueberries
1/4 cup of maple syrup
1 tsp of corn starch
zest of half a lemon, plus one light squeeze of juice
Method
In a large bowl mix together the flours, baking soda, baking powder and salt.
Pour in the melted butter, maple syrup, egg, and yogurt.
Mix until well combined, and smooth. Stir in any mix-ins or leave plain (I choose plain).
Heat a griddle pan over medium heat, and grease or Pam.
Spoon batter into small circles and use the back of the spoon to smooth them down and shape them a bit (the batter is slightly thicker than regular pancake batter).
Repeat until pan is full. Cook until bubbles form in the center and bottoms are golden.
Flip pancakes and cook until done all the way through. I had enough batter to make 13 small pancakes.
To serve all the pancakes hot (if your pan isn't that big, like mine), leave them in a 200 degree oven while you are cooking the others. To be 100% guilt free, this recipe serves 4, about 3 pancakes each.
Blueberry Sauce:
Heat a small sauce pan to high heat with blueberries and maple syrup.
Bring to a boil, then cook covered until all the blueberries have burst, about 5 minutes.
Turn off heat and whisk in corn starch, lemon juice, and starch. Stir until sauce thickens slightly.
Serve warm with pancakes.