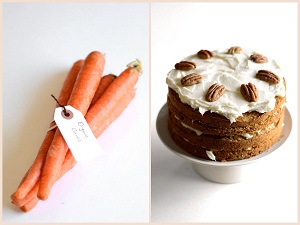 Ingredients
For the Cake:
3/4 pound raw carrots (preferably organic), peeled and finely grated (about 2 1/2 cups)
1 cup all-purpose flour
1 cup whole wheat flour (preferably ww pastry flour)
1 teaspoon baking soda
1 teaspoon baking powder
1/2 teaspoon salt
1 1/2 teaspoons ground cinnamon
4 large eggs
1 1/4 cups granulated sugar
1 cup coconut oil, melted and cooled, or any other flavorless oil
2 teaspoons pure vanilla extract
For the Maple Cream Cheese Frosting:
2 (8 oz.) packages cream cheese, room temperature
1 stick butter, room temperature
1 cup organic confectioners' sugar
1/4 cup pure maple syrup
1/4 teaspoon pure vanilla extract
Method
For the Cake:
Preheat oven to 350° F. Butter two 9-inch cake pans and line the bottoms with circles of parchment paper.
In a medium bowl, whisk together the flour, baking soda, baking powder, salt, and cinnamon.
Using a stand mixer or a hand mixer, beat the eggs until frothy, about a minute. Slowly add the sugar & beat until thick and light colored, about 3-4 minutes. Add the oil in a slow steady stream. Beat in the vanilla. Add the flour mixture and mix just until incorporated. Fold in the grated carrots.
Equally divide the batter between the two prepared pans (I weighed the batter for precise measurement). Bake in preheated oven for 25-30 minutes, or until a toothpick inserted near the center comes out clean.
Remove from oven and allow the cake to cool, in the pan on a wire rack, for about 5-10 minutes. Turn the cakes out of the pans onto a cooling rack and allow to cool completely before frosting.
For the Maple Cream Cheese Frosting:
Beat the cream cheese and butter together until fluffy.
Sift the powdered sugar over the cream cheese/butter mixture and mix until well combined. Add the maple syrup and vanilla extract and beat until combined.