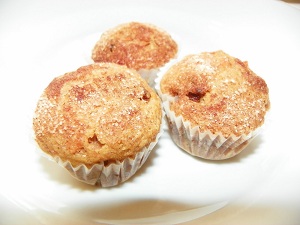 Muffins are typically little sweet cakes disguised as a nutritional breakfast option… not with this recipe… It's loaded with natural & nutritious ingredients to make them the perfect breakfast or snack!

I'm always tinkering with ways to make muffins a little bit healthier while still retaining their moist, sweet deliciousness. I think this recipe is win-win… it's sweetened with maple syrup, loaded with good-for-you foods like organic applesauce, carrots and walnuts and kissed with a little cinnamon and nutmeg!

This recipe can easily be doubled. I love this yield, though... the muffins always get consumed while they are fresh and at their best.
Ingredients
1 cup flour
1/2 teaspoon baking soda
1/2 teaspoon cinnamon
1/4 teaspoon baking powder
1/8 teaspoon nutmeg
1/8 teaspoon salt
1 organic egg
1/3 cup maple syrup
1/2 cup organic applesauce
1/4 cup coconut oil* or olive oil
1 teaspoon vanilla
1/2 cup organic carrots, shredded
1/2 cup walnuts, chopped
1/2 cup organic raisins
1 Tablespoon granulated sugar
1/4 teaspoon cinnamon
Method
Preheat oven to 400 degrees. Line a mini-muffin tin with 18 liners or grease and flour 18 mini muffin cups.
In a mixing bowl; mix the egg and maple syrup together. Add the apple sauce, coconut oil and vanilla. Mix until combined.
In a medium bowl, whisk together the flour, baking soda, cinnamon, baking powder, nutmeg and salt. Add the flour ingredients to the egg mixture. Mix until thoroughly combined.
Add the carrots, walnuts and raisins. Mix just until combined.
Spoon the batter into the 18 prepared mini muffin cups.
Mix together the Tablespoon of granulated sugar and 1/4 teaspoon of cinnamon. Lightly top each muffin with the sugar mixture.
Bake for 11 minutes.
* coconut oil is usually solid, I sometimes lightly heat the oil for a couple of seconds in the microwave, but I also sometimes put it in solid and let the mixer break it down- whatever you prefer.