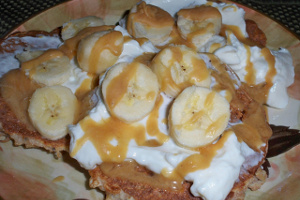 Ingredients
Pancakes
1 1/4 cups whole-wheat flour
1/4 cup wheat germ
2 tablespoons honey
1 1/2 teaspoons baking powder
1/2 teaspoon baking soda
1 teaspoon coarse salt
1 1/2 cups non dairy milk (I like coconut milk or hemp milk)
1/4 cup coconut oil
2 large eggs, lightly beaten
2 tablespoons chia seeds
Maple Coconut Peanut Butter Sauce
Method
For the Pancakes
Soak the chia seeds in the non dairy milk overnight to make a "chia gel".
In the morning, whisk together flour, wheat germ, sugar, baking powder, baking soda, and salt in a bowl. Whisk in chia gel, oil, and eggs. Let stand 10 minutes (if batter thickens, stir in 1 tablespoon water or milk).
Coat a nonstick skillet with cooking spray, and heat over medium heat. Spoon in 1/4 cup of batter for each pancake. Cook until bubbles appear. Flip, and cook until golden brown, about 2 minutes.
For the Maple Coconut Peanut Butter Sauce
Combine maple syrup, coconut oil, and peanut butter in sauce pan. Heat, stirring until smooth and heated through. Serve over pancakes.
science-backed health benefits of coconut oil