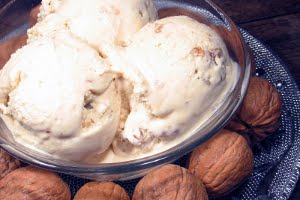 Ingredients
100 g walnuts, chopped
160 ml maple syrup
300 g heavy whipping cream
200 g evaporated milk
Method
Mix maple syrup and cream.
Pour chilled evaporeted milk into a mixing bowl and whisk until thickened and the volume has doubled.
You should be able to see the tracks of the whisk.
Mix in the cream mixture.
Pour into the ice cream maker until done. Transfer the mixture into the freezer for at least 2 to 3 hours.