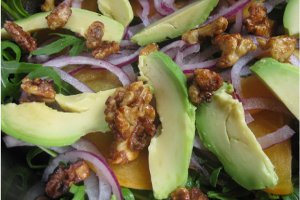 Ingredients
Salad
handful raw Walnut pieces
1-2 Tblsp. Maple Syrup
4 cups Rocket, washed & dried
1 fresh Apricot, stoned & thinly sliced
1/2 Red Onion, thinly sliced
1 ripe Avocado, thinly sliced
Dressing
2 Tblsp. Red Wine Vinegar
1 Tblsp. Maple Syrup
2 Tblsp. Olive Oil
Method
For the walnuts
Turn oven to 400F/200C, and line a baking tray.
Pour Maple Syrup over Nuts & mix with hands to cover.
Lay out the Nuts on baking tray and toast in Oven about 5 min. or until beginning to brown (do not take your eyes off them – they burn very quickly!).
Remove, and let cool.
For the salad
Place Rocket in a large Salad bowl, and cover with Apricots, Red Onion & Avocado.
Combine Dressing ingredients in a jar & shake to mix.
Sprinkle Nuts over Salad, and pour Dressing over just before serving.