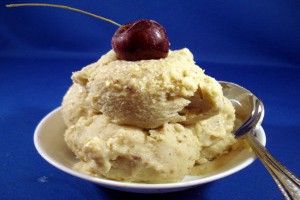 Ingredients
1 can (about 2 cups) coconut milk
1 cup unsweetened soy, almond, or rice milk
2 cups fresh sweet corn, shucked from about 3 ears
2/3 cup sugar
1/2 cup cashew butter
2 tbsp ground flaxseed
1/4 cup warm water
2 tsp vanilla
2 tbsp pure maple syrup
pinch of salt
Method
In a saucepan, combine the coconut milk, soy milk, sugar, and corn. Gently heat to boiling. Turn off heat and let for about an hour to let the flavors combine.
Puree the corn into the mixture until smooth, and strain out any chunks.
In a small bowl, mix together the flaxseed and water and let sit until thickened slightly.
In a large bowl, whisk together the cashew butter, vanilla, maple syrup, and flax mixture.
Slowly pour in the warm corn mixture and whisk to combine.
Return to saucepan, and heat on medium-low heat for about 15 minutes or until thickened.
Add a pinch of salt to taste.
Let the mixture come to room temperature, then chill for 2 hours.
I am usually pretty loose with chill times, but here it is important that it is as cold as possible before putting into the ice cream maker.
Follow the directions in your ice cream maker, then freeze again before serving.