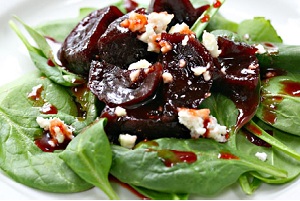 Ingredients
1 Tbsp olive oil
6 cooked baby beets, sliced or roughly chopped
1/2 cup orange juice
1 Tbsp balsamic vinegar
1/4 cup maple syrup
Kosher salt and fresh black pepper, to taste
4 cups baby spinach or salad greens
2 Tbsp crumbled mild blue cheese, or more to taste, at room temperature
Method
In a small nonstick sauce pan, heat the olive oil over low-medium heat.
Add the beets, and cook, stirring occasionally, for 2-3 minutes.
Pour in the orange juice, vinegar and maple syrup, and stir to coat the beets.
Bring to a boil, then turn the heat to simmer, and let the beets cook gently, stirring occasionally, until most -- but not all -- of the liquid has reduced. (The liquid will dress the salad greens, so leave a bit in the pan.)
Season to taste with salt and pepper.
Arrange the spinach or greens in a serving bowl, and drizzle the beets and pan liquid over the greens. Top with crumbled blue cheese. Serve at room temperature.