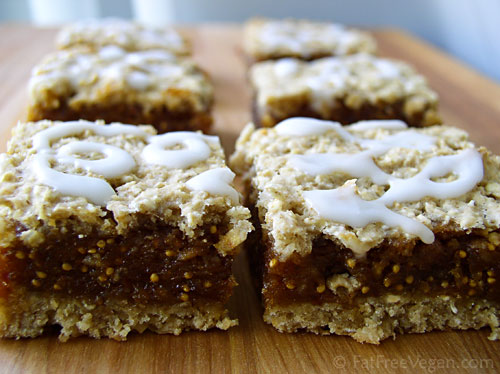 Ingredients
8 ounces dried figs, chopped
4 ounces pitted dates, chopped
~12 chopped almonds
1 tbsp. pure maple syrup
2 tbsp. water
1 tbsp lemon juice
1/4 tsp cinnamon
1/8 tsp ginger ( I used even less than that because I think ginger is strong)
For the crust:
1 cup oat flour (grind 1 cup oats in blender)
1 cup dry Old fashioned oats
1 tsp baking powder
1/4 teaspoon salt
4 ounces unsweetened apple sauce
3 tbsp 100% pure maple syrup
1/4 cup water
Method
Chop figs (making sure to cut off the hard stems), dates, and almonds and process in a food processor until a thick paste forms. Add sweetener through ginger and blend into a paste.
Combine dry ingredients in a medium sized bowl, add wet ingredients and mix with electric mixer until well combined.
Preheat oven 375 degrees. Spray an 8 x 8″ baking dish with cooking spray and pat half of the oat mixture in to the bottom of the pan. Spread the fig mixture over the bottom crust, and top with remaining oat mixture. Bake for ~ 30 minutes. Allow to cool and cut in to 16 squares.
Nutritional Profile (sliced in 16 squares): 114 calories, 1.3 g fat (0.3 g sat.), 0 mg cholesterol, 69 mg sodium, 250 mg potassium, 4.3 g fiber, 31.9 g carbohydrate, 15 g sugar, 2.1 g protein