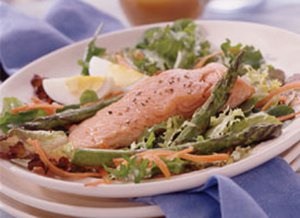 Ingredients (4 portions)
Salad
1 salmon fillet, 1/2 inch thick (1lb)
1 lb asparagus spears
4 cups baby salad greens
1 cup shredded carrots ( about 1 1/2 medium)
2 hard-cooked eggs, cut into 8 wedges
Freshly ground black pepper, if desired
Salt and freshly ground pepper, to taste
Maple-Dijon dressing
1/3 cup maple syrup
2 tbls Dijon mustard
2 tbls olive oil
Method
Heat gas or charcoal grill.

In small bowl, mix the maple-dijon dressing ingredients with wire whisk.

Cut salmon crosswise into 4 pieces.

Brush salmon with 1 tbls of the dressing.

In large bowl, toss asparagus and 1 tbls of the dressing.

Place asparagus in grill basket (grill "wok").

When grill is heated, place asparagus and salmon, skin side down, on gas grill over medium heat or on charcoal grill over medium coals. Cover grill.

Cook asparagus 7 to 10 minutes and salmon 10 to 15 minutes. Shaking grill basket or turning asparagus occasionnally, until asparagus is crip-tender and salmon flakes easily with fork.


Slide pancake turner between salmon and skin to remove piece from skin.

On 4 plate, divide salad greens, carrots and eggs. Top with salmon and asparagus. Sprinkle with pepper. Serve with remaining dressing.
Source : Fédération des producteurs acéricoles du Québec