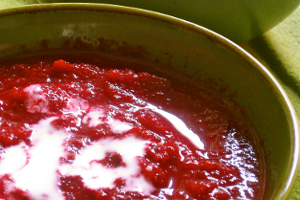 Ingredients (Yields About 3 bowls.)
One bunch of small beets (about a kilo)
Extra virgin olive oil
1 medium-sized onion, chopped
2 small garlic cloves, minced
1 cube (1cm2) ginger, minced
zest of 1 orange
pinch of chilli powder
1 cup vegetable broth
Juice of 3 oranges (or about 1 cup)
1 tbsp maple syrup
Salt and pepper, to taste
3 tbsp crème fraîche
Method
Preheat the oven to 200 0C (375 F).
Cut of the greens off the beats, scrub them clean and place them on a large sheet of aluminum foil.
Drizzle with olive oil and fold the foil over, creating a closed pouch.
Roast until tender. Depending on the number and size, this should take 30 to 45 minutes.
Remove them from the oven and let them cool enough for you to peel them with your fingers. Cut them into large cubes.
In a large skillet, heat 2 tbsp of olive oil over medium heat and sauté the onion for about 3 minutes, add the garlic, ginger, orange zest en a pinch of chilli powder and sauté for another minute.
Add beet cubes and broth, bring the liquid to a boil and let it simmer for 10-15 minutes, or until the beets are extremely soft.
Use a hand mixer or transfer the vegetables to a food processor, add orange juice and purée to a smooth, velvety mass.
Add maple syrup and season with salt and black pepper or some more chilli powder, until you find it sweet, salty or spicy enough!
Serve at room temperature or chilled, add one tablespoon of crème fraîche to each bowl right before serving.