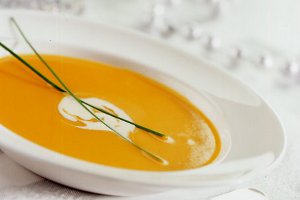 Ingredients (8 to 10 servings )
1 (2 1 / 2 pounds) kabocha squash
3 / 4 pound turnips, about 3 medium-sized turnips
3 / 4 pound celery root, about 1 medium-sized celery root
1 1 / 2 tablespoons olive oil, divided, plus extra for drizzling over each serving, optional
Sea salt
2 leeks
1 onion
A few rosemary leaves
2 to 3 cups light vegetable broth
2 to 3 tablespoons fresh lemon juice or to taste
Hot paprika or cayenne pepper
3 tablespoons pure maple syrup, plus more to taste
3 tablespoons unsalted butter
3 / 4 cup chopped pecans, lightly toasted
Method
TOTAL TIME: About 1 hour, plus roasting time for vegetables
Heat oven to 400 degrees. Cut kabocha squash in half with a very sharp knife and scrape out seeds and strings. Place halves cut side down on a lightly oiled nonstick baking sheet.
Peel turnips and cut into wedges. Peel celery root and cut into 1-inch pieces. Toss turnips and celery root with about 1/2 tablespoon olive oil and a pinch of sea salt. Spread on another baking sheet.
Roast all prepared vegetables in oven until squash gives easily when poked with a wooden spoon, and turnips and celery root are tender and flecked with dark brown, about 40 minutes to 1 hour. Remove pans from oven. When squash is cool enough to handle, scoop out of shell.
While vegetables roast, chop leeks and onions. Cut leeks in half lengthwise, wash thoroughly and slice crosswise very thinly (both white and light green parts); there should be about 11/2 cups. Set leeks aside. Chop onion and set aside.
In a large soup pot, heat remaining 1 tablespoon oil over medium heat. Add onions, a dash of salt and rosemary, then cook, stirring occasionally, until soft and golden brown, 10 to 12 minutes. Stir in roasted squash, turnips, celery root and leeks with 4 cups water and 1 teaspoon salt. Simmer, covered, about 20 minutes or until soft. Stir in 2 cups vegetable broth, 2 tablespoons fresh lemon juice, a pinch of hot paprika or cayenne, and maple syrup. Remove from heat.
Allow soup to cool somewhat, then purée in a blender, in batches, or in pot with an immersion blender. Puree until soup reaches desired consistency -- silky smooth or a rougher texture. Add a little more vegetable broth if soup is too thick to pour easily from a ladle. Return soup to a clean pot and bring back to a simmer.
Meanwhile, in a small saucepan, melt butter over medium heat. Lower heat and keep cooking butter for a few minutes, stirring with a whisk, until light golden brown. Stir browned butter into soup.
Taste soup and adjust seasoning to taste, whisking in more salt, lemon juice or maple syrup as needed. This last step is essential, as squashes vary in sweetness and lemons vary in acidity. A pinch of salt balances the sweet-sour tastes.
To serve, sprinkle each bowl of soup with a spoonful of toasted chopped pecans and a drizzle of olive oil if desired.
Per serving: 200 cal., 3 g pro., 23 g carbo., 5 g fiber, 12 g fat, 3 g saturated fat, 9 mg choles., 10 g sugar and 946 mg sodium.
Cook's note: Butternut squash can be substituted for kabocha.
Source : Fédération des producteurs acéricoles du Québec