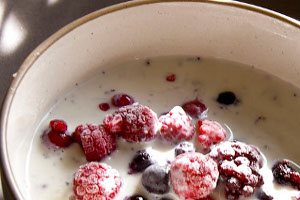 Ingredients
1 cup wholegrain oats
1½ cups rice milk
1 cup filtered water
1 tbs maple syrup
½ frozen or fresh mixed berries
2 tbs natural yoghurt (soy or dairy)
extra rice milk


Method
In a good sized pot bring the oats, rice milk and water to boil with a good pinch of salt; add maple syrup.
Simmer uncovered over a low heat, stirring, for 3-5 minutes until oats are soft and porridge is thick and creamy.
Spoon into warm bowls, pour over extra rice milk to cover, top with a dollop of yoghurt and frozen or fresh berries and a little ground cinnamon if desired.