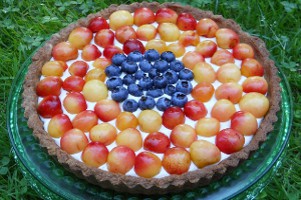 Ingredients
2 cups cherries, pitted and halved
1/4 cup blueberries
1 package cream cheese, softened
1/2 cup coconut milk
2 Tbsp maple syrup
1/2 tsp maple extract ( can be replaced by 1 Tsbp maple syrup )
For the crust
1 cup gluten-free all-purpose baking flour
1 Tbsp sugar
1/2 tsp salt
1 tsp maple extract ( can be replaced by 1 Tbsp maple syrup )
1/2 cup butter, melted
Method
Preheat oven to 375 F.
Blend cream cheese, coconut milk, maple syrup and maple extract until smooth. Set aside but do not chill.
Mix all crust ingredients, add a little flour if too soft. Press evenly into 9-inch tart pan and bake for 20-25 minutes until crust is golden brown.
Let crust cool, then spread cream mixture in the bottom and top with fruit. Chill until ready to serve.