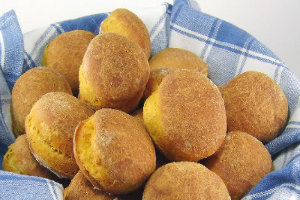 Ingredients
1-1/2 teaspoons active dry yeast
1 teaspoon granulated sugar
1/4 cup lukewarm water
3 cups all-purpose flour
3-1/2 tablespoons unsalted butter
2 tablespoons light brown sugar
1/4 teaspoon salt
1 cup pureed pumpkin
1 egg, lightly beaten
1/4 cup maple syrup
1/4 teaspoon ground cinnamon
1 cup whole wheat flour


Method
Combine yeast, sugar and water in a large bowl. Let sit until foamy, about 5 minutes. Stir in 1/2 cup all-purpose flour. Cover and let risein a warm spot until double, about 1 hour
Melt 2 tablespoons butter and pour into a medium bowl. Add brown sugar, salt, pumpkin, egg, maple syrup and cinnamon. Add to yeast mixture and beat until smooth. Add whole wheat flour and 2-1/4 cups all-purpose flour to make a stiff dough.. Knead in pan. Cover and let rise in warm place until double in size, about 2 hours.
Punch dough down and turn onto a floured board. Knead briefly and roll to a sheet about 1/2-inch thick. Cut into 2-inch circles and place circles on a floured baking sheet. Cover loosely with a towel and let rise again for 1 hour.
Preheat oven to 425 degrees F. Melt reserved 1-1/2 tablespoons butter and brush on top of rolls. Bake for 15 to 20 minutes. Yield: 1 dozen 2-inch rolls.