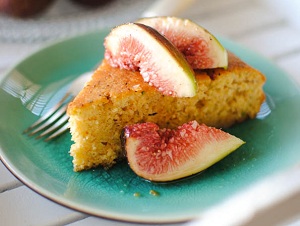 Ingredients
40g shelled pistachios
4 large free-range eggs, separated
70g natural brown sugar
1 tablespoon finely grated mandarin zest
125ml fresh mandarin juice
80g polenta
110 g gluten-free flour*
1 teaspoon baking powder
tiny pinch of salt
fresh figs, quartered, to serve
Mandarin syrup
125ml fresh mandarin juice
60ml maple syrup
1 heaped tablespoon manuka honey
1 teaspoon natural raw vanilla sugar
Method
Preheat your oven to 180C and grease a 22 cm round cake tin. Line the cake tin with baking paper.
Place the pistachio kernels in a food processor and blitz until fine.
Combine the egg yolks and the sugar in a large mixing bowl and whisk with electric beaters until pale and thick.
Add in the mandarin zest and juice, pistachios, polenta and flour mixed with baking powder. Stir until smooth.
Whisk the egg whites until soft peaks form. Gently fold the egg whites into the polenta mixture.
Pour the cake batter into the tin and bake for 30 minutes.
For the mandarin syrup, combine the ingredients in a small saucepan and heat through. Spoon 3-4 tablespoons of the syrup onto the cake (whilst still slightly warm in the tin) and serve the rest of the syrup, along with fresh figs, with the cake.
* I used plain gluten-free flour which is a mixture of maize starch, tapioca flour and rice flour.