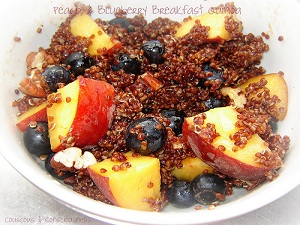 Ingredients
1/2 cup almond milk
1/2 cup water
1/2 cup red quinoa (rinse thoroughly in lots of running water)
1/4 teaspoon ground cinnamon
1 cup fresh blueberries
2 fresh peaches
1/4 chopped pecans, toasted
2 teaspoons honey
Method
Put quinoa, almond milk and water into a medium saucepan, set over high heat and bring to the boil. Turn heat down to medium-low, cover and simmer until liquid is almost completely absorbed (about 15 minutes). (Note: I suggest you don't walk away - the milk bubbles up a lot, and makes a horrible mess if it boils over. I found I had to leave the lid of my pan slightly ajar, and lift it off at regular intervals. Maybe I should have used a slightly bigger pan.)
Remove pan from the heat, and allow it to stand, covered, for 5 minutes. Stir in the cinnamon and then the fresh fruit. Transfer to serving bowls, top with the toasted pecans, and drizzle with honey.
Delicious while still warm, but also just as good cold the next day. If desired, you could reheat briefly in the microwave the next day, and you may also want to add a little extra milk to loosen.