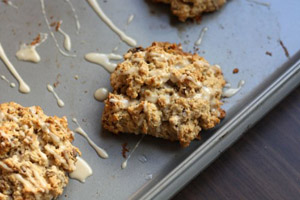 Ingredients
1 1/4 cups (210 g) flour
1 1/2 cups (125 g) old-fashioned rolled oats
1 1/2 teaspoons baking powder
1/4 teaspoon baking soda
1/4 teaspoon salt
1/4 cup (50 g) pecans, toasted and chopped
1/2 cup (80 g) golden raisins
1 stick cold butter, cut into 10 pieces
1/3 cup cold heavy cream
1/2 cup maple syrup
1 cold egg

Maple glaze
1 cup icing sugar
3 tablespoons maple syrup
1 to 2 tablespoons water
Method
Preheat oven to 350°F.
In a large bowl, stir together flour, oats, baking powder, baking soda, salt, pecans, and raisins. Scatter the butter pieces on top. Cut in butter with two knives until it's somewhat broken down and grape-size pieces are still visible.
In a small bowl, whisk together cream, maple syrup, and egg. Add to flour mixture, and use hand mixer on low speed until dough just comes together, about 20 seconds.
Using a 1/3 cup measure, drop mounded scoops of the dough onto a baking sheet, forming 8 scones and leaving a couple of inches between each. Bake until scones are golden brown on top, 30-40 minutes. Transfer to wire rack to cool.
Maple glaze
I found this to be incredibly sweet so just used a drizzle: next time I'd make a half or even third recipe. If you don't like things to be too sweet, I'd recommend you go easy on the glaze.
While scones are cooling, whisk together sugar, maple syrup, and enough water to make a pourable glaze. When scones have cooled 30 minutes, brush or drizzle glaze over.