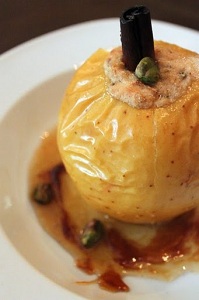 Ingredients
4 large Opal (or Fuji or Gala) apples
½ cup (part skim) ricotta cheese
3 Tbsp. plus 4 tsp. maple syrup (or honey)
½ tsp. vanilla powder (or 1 tsp vanilla extract)
¼ tsp. cinnamon
1 Tbsp. roasted pistachio, finely chopped, plus some for garnish
4 Tbsp. unsalted butter
4 cinnamon sticks
Method
Preheat an oven to 450 ͦ F. Remove the core of the apples with an apple corer or a spoon, being sure to leave the base unbroken). Place apples in a 9-inch glass pie plate. Add 2 tablespoons of butter and 2 tablespoons of maple syrup in the bottom of the plate.
Mix the ricotta, 1 tablespoon of maple syrup, vanilla powder, cinnamon, and pistachios; set aside.
Cut 2 tablespoons of butter into 4 pieces; fill each apple core with a piece of butter and 1 teaspoon maple syrup. Divide the ricotta filling into each of the apple cavities. Add a cinnamon stick so that it sticks out of the center.
Bake for about 30 minutes, basting at least one time with butter/maple syrup from the pan, until the apples are tender. Cooking time will depend on the size of the apples. Serve immediately, with pistachio garnish.