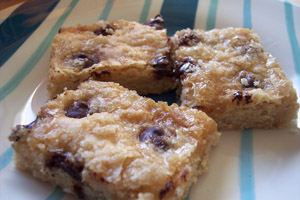 Ingredients
3/4 cup (1 1/2 sticks) unsalted butter, room temperature, plus additional for pan
7 Tbsp. finely ground maple sugar, divided
1/4 tsp. coarse kosher salt
1 1/2 cups all-purpose flour
1/4 cup bittersweet chocolate chips
2 tsp. Grade B maple syrup
Method
Preheat oven to 300°. Butter 9-inch tart pan or springform pan with a removable bottom.
Using electronic mixer, beat butter, 6 Tbsp. maple sugar, and salt in a large bowl until light and fluffy, and sugar is dissolved. Add flour and beat just until blended.
Pat dough evenly onto the bottom of prepared pan. Press chocolate late chip into dough in a random pattern, spacing chips 1/2 inch apart (chips should show). Brush dough with syrup and sprinkle remaining sugar evenly on top.
Bake until golden brown and firm to touch, about 55 minutes. Transfer pan to rack and cool for 10 minutes. Release bottom of pan and cut warm shortbread. Cool wedges completely and serve.