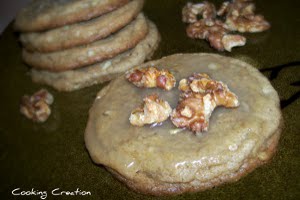 Ingredients
Cookie Dough
1 c butter, softened
1 c white sugar
1 c packed dark brown sugar
1 large egg
3 tbsp light maple syrup
3 c all-purpose white flour
1/2 tsp baking soda
1 tsp salt
1 tsp ground cinnamon
1/2 tsp ground nutmeg
1 c chopped walnuts
Maple Glaze
1 c white sugar
1/4 c butter
1/4 c milk
2 tbsp light maple syrup
Walnut halves, toasted; for garnish
Method
Make the dough. In a large bowl, cream together butter, white sugar and brown sugar. Add egg and syrup, beating until smooth.
In a separate large bowl, combine flour, baking soda, salt, cinnamon and nutmeg.
Add the dry ingredients to the wet ingredients until well-blended.
Stir in the chopped walnuts.
Shape the dough into a 2-inch-diameter log and wrap in wax paper.
Refrigerate until the dough is firm.
Preheat oven to 350 degrees.
Cut the dough into 1/2-inch slices and place on a greased baking sheet about 1 inch apart.
Bake for 8 to 10 minutes.
Meanwhile, make the glaze. Combine sugar, butter and milk in a sauce pan and heat over medium-high heat. Bring to a boil, stirring constantly for one minute. Stir in maple syrup and remove from heat. Set aside to cool.
Remove cookies from oven. Allow the cookies to cool on the baking sheet for about 5 minutes before transferring to wire racks to cool completely.
Whisk the glaze when the cookies are completely cooled. Spread the glaze over each cookie and top with walnut halves.
Enjoy!