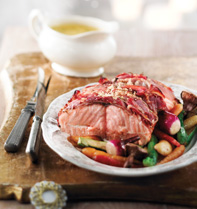 Ingredients (8 servings)
Maple Roasted Salmon
60 ml (1/4 cup) Dijon mustard

5 ml (1 teaspoon) ground fennel

60 ml (1/4 cup) maple syrup

Juice of 1 lemon

1 900-g (2-lb.) salmon filet, skin removed

Salt and freshly ground pepper

Maple sugar nuggets, to taste
Béarnaise Sauce
30 ml (2 tablespoons) butter

4 shallots, chopped

2 sprigs of fresh tarragon, chopped

Salt and freshly ground pepper

250 ml (1 cup) wine vinegar
Method
In a bowl, combine the mustard, fennel, maple syrup and lemon juice. Set the marinade aside. Lay out the salmon filet in a dish. Season with salt and pepper and pour the marinade over it. Cut the filet in half widthwise. Place the pieces of salmon flesh against flesh, head to tail. Preheat the oven to 400 °C (200 °F). Wrap the marinated salmon with the prosciutto and tie with string. Place on a parchment-lined baking sheet, sprinkle with maple crystals and bake for 40 minutes.

While it bakes, prepare the béarnaise. In a saucepan, melt the butter and sweat the shallots with half of the tarragon. Season with salt and pepper, add the vinegar and maple syrup, then reduce by half over very low heat. Strain the sauce into a bowl. Let the sauce cool, then whisk in the egg yolks. Add the cold water and place the bowl over a double boiler. Next, gradually pour in the melted butter, whisking continuously to ensure the sauce emulsifies. Once it has the consistency of mayonnaise, add the rest of the tarragon and the chervil (or basil). Correct the seasoning if necessary.

Serve with seasonal vegetables.
Spoon the maple béarnaise over the salmon to serve.
Source : Fédération des producteurs acéricoles du Québec